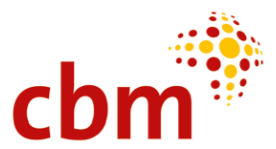 CBM is an international Christian development organisation, committed to improving the quality of life of persons with disabilities in the poorest countries of the world. CBM works in the most disadvantaged societies, irrespective of race, gender or religion. CBM seeks to:
-Reduce the prevalence of diseases which cause impairments.
-Minimise the conditions which lead to disability.
-Promote equal opportunities for economic empowerment, livelihood security, and full inclusion in all aspects of society for persons with disabilities.