The L'OCCITANE Foundation launches a call for projects to fight avoidable blindness and encourages L'OCCITANE's offices worldwide to participate by identifying and supporting local organizations with eye care projects. These projects are co-financed by L'OCCITANE's local offices and by the foundation.
The foundation will double1 the funding granted by L'OCCITANE's local offices.
1 In the limit of €5,000, €10,000 or €20,000 depending on the country; but the local L'OCCITANE's office can support the project with more funding
 
Rules and eligibility criteria
The project needs to be carried out by an organization of general interest
The project must focus on eye care (screenings sessions, provision of spectacles, treatments, surgeries, optometrists or ophthalmologists training, purchase of machinery and equipment, etc).
The project needs to have measurable results. The number of beneficiaries receiving eye care thanks to the help of L'OCCITANE must be included in at least one of the lines of the table in 1.10 part of the following application form. 
A strong focus will be done on the financial sustainability of the project
Location (in order to facilitate the relationship with the local L'OCCITANE office):
The project presented takes place in a country where there is a local L'OCCITANE's office 
AND / OR
 The charity organization managing the project and requesting the grant has a local office in a country where there is a local L'OCCITANE's office
(countries' list below)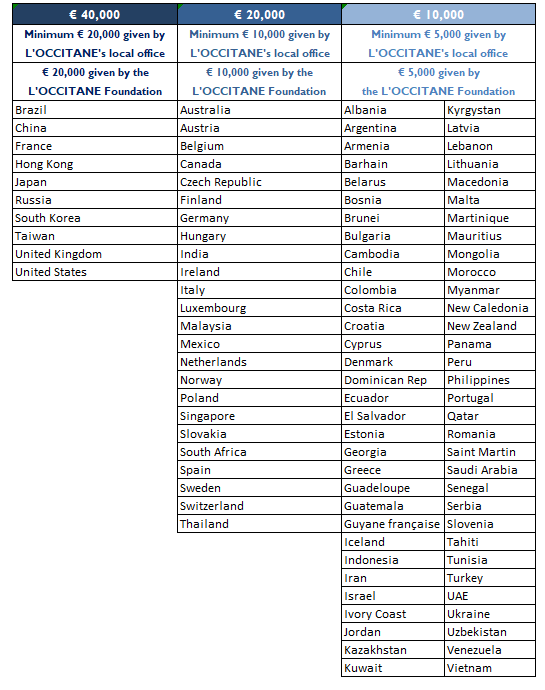 How to apply
If all the eligibility criteria are validated:
1.    Contact the subsidiary of L'OCCITANE located in your country, or where the project is taking place, in order to present your structure and project
2.    If the local subsidiary of L'OCCITANE confirms its wish to support you, complete together the application download here
3.    Application deadline (the subsidiary must send the application to the foundation): February 28, 2020
4.    Announcement of the selected projects and signature of the legal agreements : starting April 2020
NB - If you are unable to contact the local L'OCCITANE branch, you can contact unionforvision@loccitane.com. The call for projects being based on the commitment of a local subsidiary of L'OCCITANE, the probability that your project is selected will be very low if you apply directly, without the accompaniment of a subsidiary company.